As you are aware, LT Governor Karyn Polito has decided not to run for Re-Election.
We thank Karyn for her public service and hope she stays involved!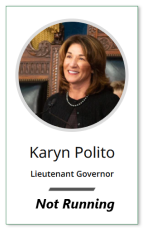 Massachusetts LT. Governor Candidate
Once again, Massachusetts Republicans have nominated a female Lt. Governor. The first female acting Governor of MA was Jane Swift who served from April 2001 to January 2003. Kerry Healey was then nominated and served as Lt. Governor under Mitt Romney from 2003 to 2007.
With the nomination and election of Karyn Polito as Lt. Governor in 2014, Republicans once again get it done, while the other party keeps talking. Karyn has served admirably during the past 8 years. It is my personal hope that she runs for US Senate against Markey.
I urge my fellow Republicans and voters in Massachusetts to overcome personal disappointments with the primary election outcome and join together… and unite behind whomever our Lt Governor Nominee is.
---
Disclaimer: This Page has been created at $0 cost. It is a personal site, created by myself, to express my own personal opinions and endorsements and thus, protected by my Constitutional Right to Free Speech. This site is not affiliated with, nor in cooperation with any other political organization, party or entity required to report to Federal or State Election Finance Agencies.